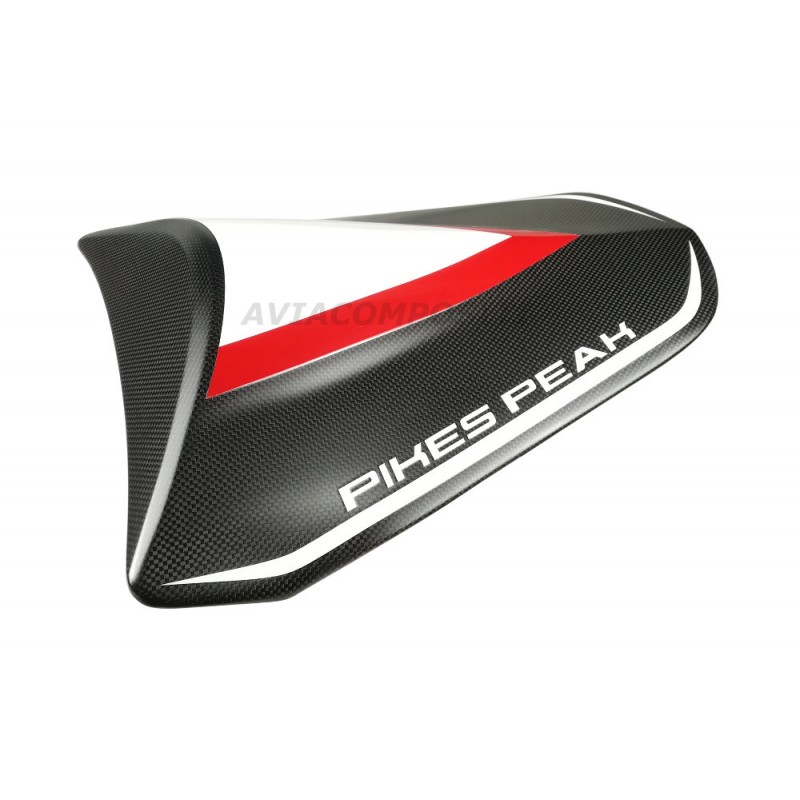  
Seat cowl for Multistrada Pikes Peak 2015-2020 in matte carbon and glossy top
BOOK IT NOW! Top Level product, extremely complex and very long to prepare
Current delivery time 30 days approx.
Place now your order to enter in the production list.
Each piece has it's own serial number
It can be installed on Multistrada 1260-S-D|AIR-PIKES PEAK-GRAND TOUR-2015-2020 - not installable on 950 and Enduro
Exclusive registered design of Aviacompositi
Our carbon fiber tail it is installed in place of the passenger seat using the same attachments and the opening with the key as for the passenger seat.
It is also equipped with anti-abrasion strips that protect both the tail and the painted part of the base.
____
The elegant borders, the lettering and the two-tone top give our tail for Multistrada Pikes Peak a brilliant and harmonious look. Despite the greater difficulty of implementation, we wanted to add another fine detail to this unique piece with its elaborate graphics: the double finish with the top in glossy colors and the carbon part with a matte finish that make it a real "Must" for owners of the Multistrada Pikes Peak.

It is designed for the high position of the rider seat. For the low position it can still be installed but there is a space of about 1 cm between the saddle and the front edge of the tail.

It weights only 290 grams
Read the story and other details below ↓
Why buy an AVIACOMPOSITI product? Read here...
Any question? Write us now

Secure payments

Delivery times and methods
Due to the current orders accumulation the delivery times are rather longher than usual
Our philosophy is aimed at guaranteeing quality which is why we avoid unnecessary rush in production
It has been designed to give an aggressive MotoGP look and at the same time elegant and harmonious, its particular shape between soft and decisive curves is a perfect mix that perfectly integrates into the stylistic context of the bike. Its particular shell geometry allows to considerably increase the volume of the glove compartment while being lower than the passenger seat.

The difficulty in making the edges with a very low radius, the integrated rear carbon hook and the presence of the red Ergal pin for the lock, make this piece a valuable product to be absolutely distinguished from the simple shell saddle cover.

Made of the same Ducati style carbon, it's cured in autoclave with high pressure, temperature and vacuum to guarantee low weight and high rigidity.