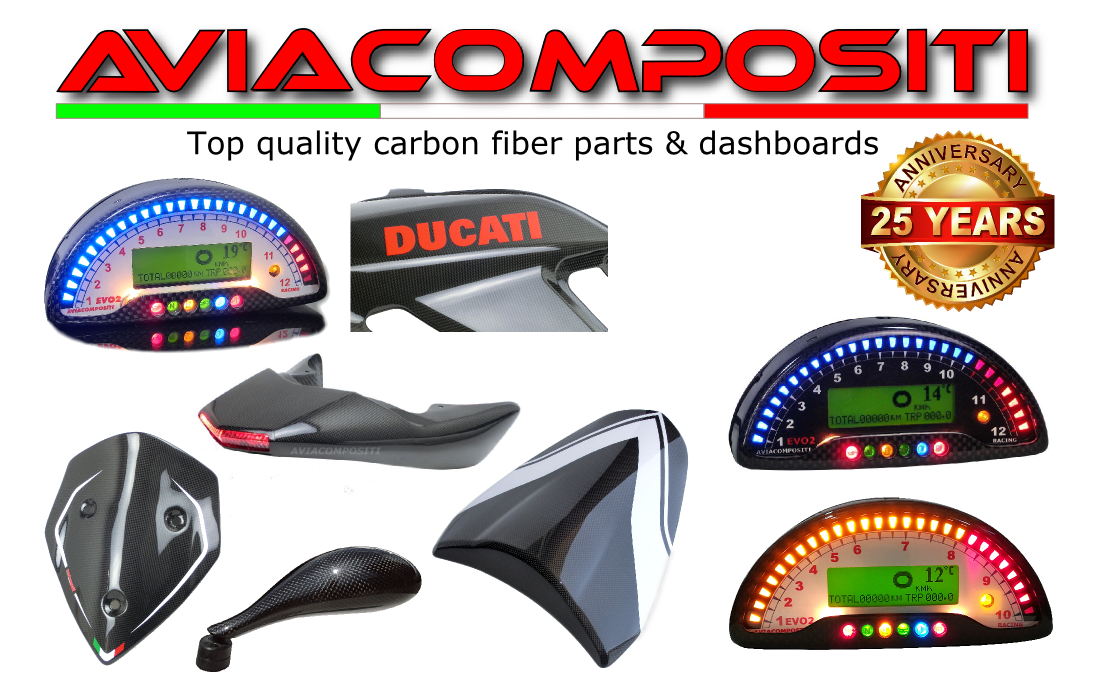 Update
October 25th, 2022
NEW!
BOOK IT NOW

Single seat tail for Ducati Multistrada DVT 2015-2021
___________
Due to the many orders to be processed, in this period our accessories can only be requested via email, their availability and delivery time will be evaluated at the moment
___________

CORONAVIRUS EMERGENCY
OUR SAFETY PROCEDURES AGAINST CORONAVIRUS
__________
NEW ORDER MODE
With the pre-order by email it is possible to buy in 2 instalments
for any question please contact us by the contact form at this link or at info@aviacompositi.it
__________
Over 25 years of pure passion for technology and design entirely dedicated to your bike
Carbon fiber parts and Dashboards - Top quality and durability

100%  Made in Italy  - 100% Carbon Fiber autoclave processed


Worldwide shippings


   
__________
DUCATI
__________
IN EVIDENCE
Some of our milestones: the carbon fiber tail for Ducati Hypermotard with monoexhaust developed by us in collaboration with the Italian "Hypermotardclub", carbon fiber tail-seat cowl for Ducati Multistrada 1200 - 2010-2014 and 2015-2020, several types of windshield for Multistrada, carbon fiber complete fairing for MV Agusta F3 and much more..
   
__________
MV AGUSTA
__________
UNIVERSAL

__________
New life for Ducati Monster first series
Bringing the Ducati Monster first series back to life, here there are some of our historical accessories re-proposed with current technology. These accessories are part of the glorious history of this bike from the 90s and also our history.